Call me naive but I still like to believe we can make this world a better place. I believe one person CAN make a difference. This belief is what motivated me to start some crazy volunteer projects without any formal experience or training but that ended up making a positive impact for an awesome group of kids. It was scary during the planning stages as there was no guarantee for a successful outcome. But doesn't it seem that when one person steps up, they are suddenly joined by other (perhaps crazy) people who also believe they can make a difference? And that's when REALLY great things start to happen. That's when you can build something much bigger than you had even imagined.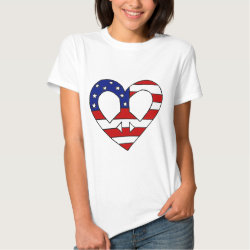 I'm not one to make a public stand on politics or vocalize my personal political beliefs on social media or on the internet. I find that politics can unfortunately tear friends and families apart. However, this election year in the United States, I feel deeply concerned about the divisive rhetoric and tactics that are being used.

​Feeling drowned in the negative news, I was struggling to find a way to express this concern and my feelings. I decided to sit down with my sketchbook and started doodling. With simple lines using a worn down pencil, I created an illustration that symbolizes a more positive direction for our country. A symbol that is bipartisan - one that you can support whether you vote Republican or Democrat. A symbol that shows our kids we strive towards more peace, greater unity and a deep love for our country.
I know I'm just one mom trying to make sense of what I hear on the news but since I believe with all my heart that one person can make a difference, I'm going out on a limb. I want to ask you this question:
If you do, imagine what you can do. For me, it is grabbing a pencil, creating a hand drawn illustration and sharing the design with you. Everyone has their own gifts and ways to express. Please share your thoughts and how you choose to respond in a positive way.
What are your gifts?
How can you respond in a positive way?
​Are you a mom? Do you believe that one person can make a difference?

I look forward to hearing from you in the comments!
​