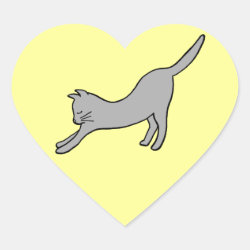 Just a quick blog post to let you all know that I have two new designs up in my
zazzle shop
. I recently wrote a
blog post
about why I choose to work with zazzle.
I'm really excited to share both of these designs with you! In choose the color palette, I decided to go with a yellow background for both designs. I must have been in the mood for a little extra sunshine when I was designing these! It has been raining so hard here in Portland this past week. The nice thing with zazzle is that you can easily customize the background color if you want to match this design to something else or pick your favorite color.
The first design is of a whimsical purple hedgehog with heart shaped face. The simple, bold lines of this design work well for both adults as well as kids, or even to welcome a new baby! This design has a geometric shape and eye catching for anyone who loves hedgehogs!
The second design is of a gray stretching cat. Yawn! Or yoga? I know our kitty cat loves to take a good stretch after a long nap on a cozy blanket! This design is fun to gift to any cat lover in your life as it comes on many different gift items. If you want to give your home a cat theme, many home decor items are offered with this design, as well as t-shirts, other apparel, customizable paper goods, personalized mail labels, and more.
Whichever it is, I hope the design makes you smile and relax! Here on my personal site are just a few of the products available with these designs but if you want to see the entire collection, please visit:
www.zazzle.com/presentsoflove*
​
I'd love to hear your thoughts on these designs! Any particular products you'd like to see these on? Which do you like best? Please leave a comment to share.
​Thank you so much!